Finding the Old New York in Manhattan's Vanishing Little Italy
Manhattan's Little Italy is filled with New York City history that you can eat. Visit any number of local businesses -- some of which have been slinging mozzarella and powdered pastries for decades -- and you'll get a taste of the area's once-bustling immigrant community.
Even some of the area's recent additions feel like they've got old souls, attracting locals who might've once dismissed Little Italy as Olive Garden writ large
Newer drinking and dining destinations hark back to the Old World, all while shaking up takes on negronis, and crafting pasta dishes that would inspire your Nonna to learn Instagram.
Speaking of social, the neighborhood's narrow streets, red, white and green garland, and vintage-adjacent, Italinish storefronts are all very cinematic.
But your snacking and snapping tour might not last as long as you'd like, and not just because of geographical limitations. Piccola Italia's future is under perennial threat by rising rents that force long-standing businesses to close, a dwindling Italian population, and receding boundaries because of a constant creep from nearby SoHo and Chinatown.
Before too long, the enclave immortalized in The Sopranos, The Godfather, Martin Scorsese's fever dreams, and mafia Wikipedia pages could get whacked for good.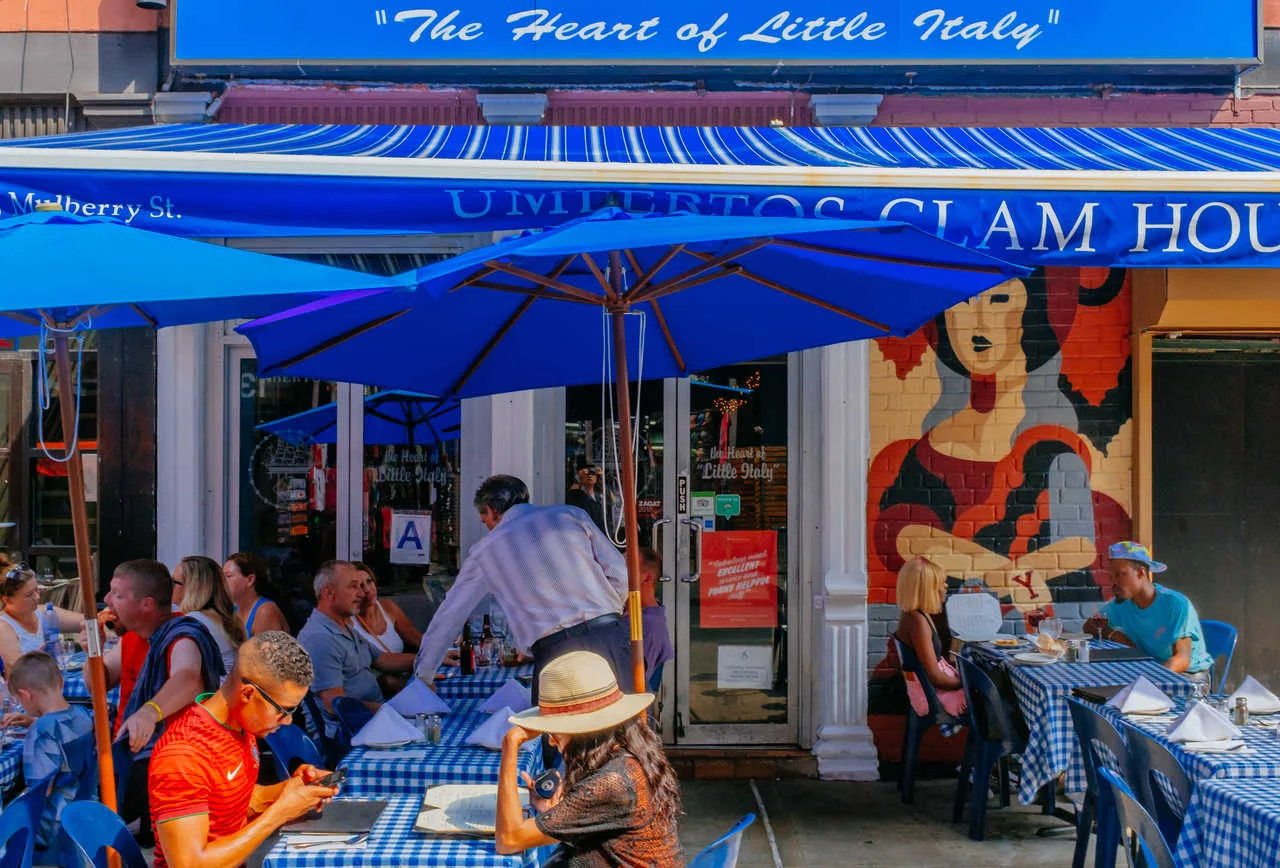 "They've been killing Little Italy for 30 years," says Robert Ianniello Jr., owner of local institution Umberto's Clam House.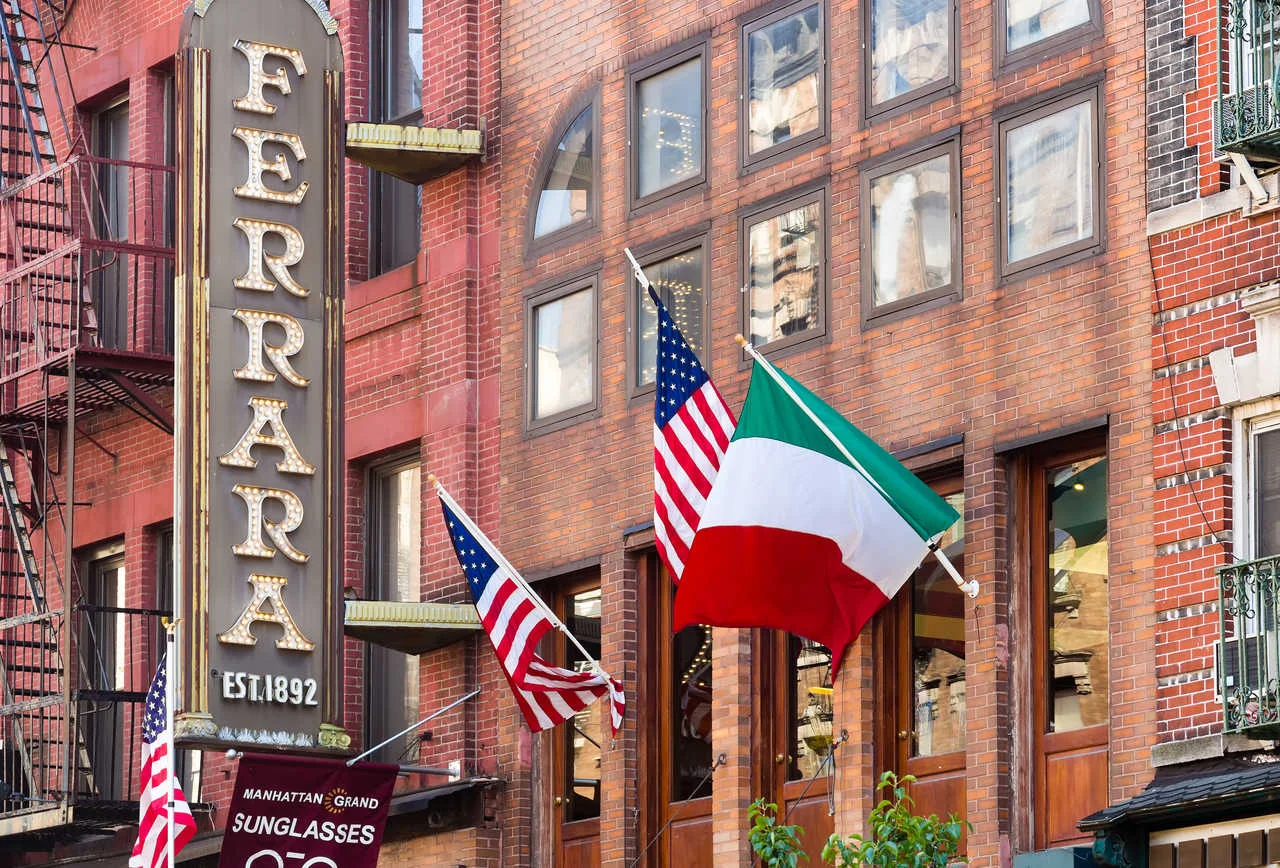 Umberto's roots reach back to 1972, when Ianniello's father first opened the restaurant's doors. Its current address, on Mulberry Street between Grand and Hester, puts it in the middle of the three-block stretch that's now considered Little Italy.
Its current address, on Mulberry Street between Grand and Hester, puts it in the middle of the three-block stretch that's now considered Little Italy.
All that technically remains of the old Little Italy, a section of New York City that once spanned a considerable number of square blocks and served as a mecca for thousands of Italians, is a row of restaurants, cafes, and shops on Mulberry.
In certain pockets, it feels like Time Square South. Gift shops prey on tourists, hawking profane T-shirts ("Fuck You You Fucking Fuck") and on-the-nose novelty license plates ("MAFIA").
Say ciao to chow at real-deal red sauce restaurants
Hop on a Citi Bike, take the J, Z, N, Q, 4, or 6 trains to Canal Street, or tap "Little Italy" into your map app, and don't stop walking till you see the loopy, illuminated "Welcome" sign overhead.
Then, prepare to bid no grazie to the restaurant hawkers pitching prix fixe menus and free house chianti outside the penne alla vodka tourist traps. They can be charismatic, sure. But this visit is about knowing where to look.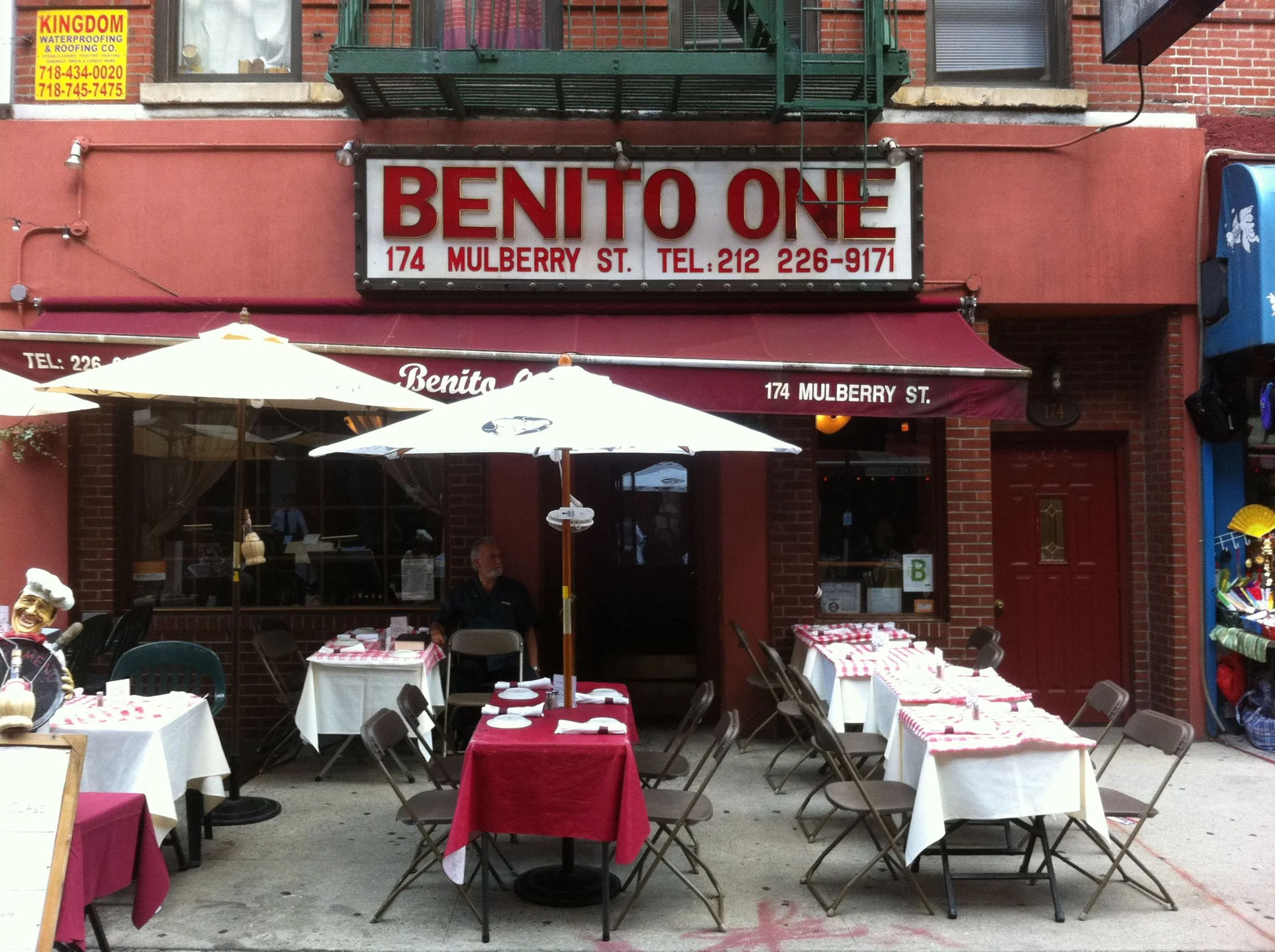 For a traditional Italian meal -- olive oil on the table, pasta on the side, stop by Benito One, on Mulberry between Broome and Grand streets. It's an intimate setting, with an arrangement of black-and-white photos hanging on its clay-colored walls.
The owner, James Bari, is comfortable in cozy situations. He lives in the same Mulberry Street apartment where his grandmother first made her family's home in 1915, with the bathtub and toilet in the kitchen. Of course, not all of his neighbors go that far back.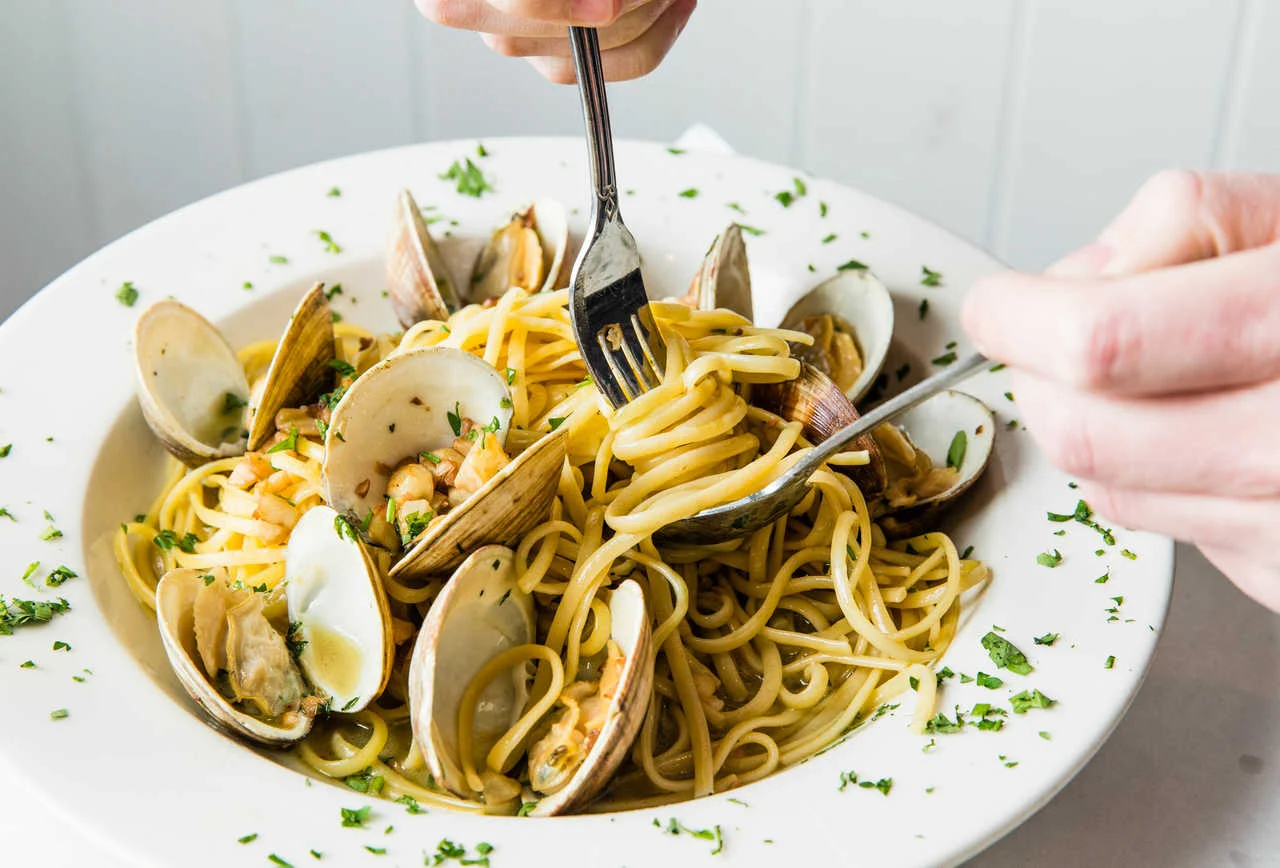 For seafood with a side of tough-guy history, walk over to Umberto's, where Ianniello recommends the restaurant's two signature frutti di mare dishes: baked clams and linguine with white clam sauce.
Another part of Umberto's draw, no doubt, is its role in mafia folklore. Mobster Joe Gallo -- also known as "Crazy Joe" -- was gunned down in the original Umberto's location, two months after it opened in 1972, and died on the sidewalk outside.
It's a topic Ianniello would rather not discuss, certainly not like it's just a scene from a gangster flick, and he gives a knowing nod when the subject's broached. But that doesn't stop some people from gawking at the site of a famous mob hit.
"I have people coming in here, looking for the bullet holes," Ianniello says. "They don't even realize we've moved [a few doors down since then]."
After drinks, comes dessert, and these three blocks are rich with options.
For gelato, there's a color wheel of flavors available at Ferrara, a bakery on Grand between Mulberry and Mott that opened in 1892.
If it's cannoli you're craving, keep an eye out for the giant recreation that hangs above Mulberry, between Grand and Hester. That's the mark of Caffé Palermo, owned by John Delutro, the self-crowned "cannoli king."
And then right at the northern end of Little Italy, on the corner of Mulberry and Broome, is Caffe Roma, with its tin-pressed ceiling that's been painted green, pendulum clock in the back, and cannolis with an extra kick of cinnamon.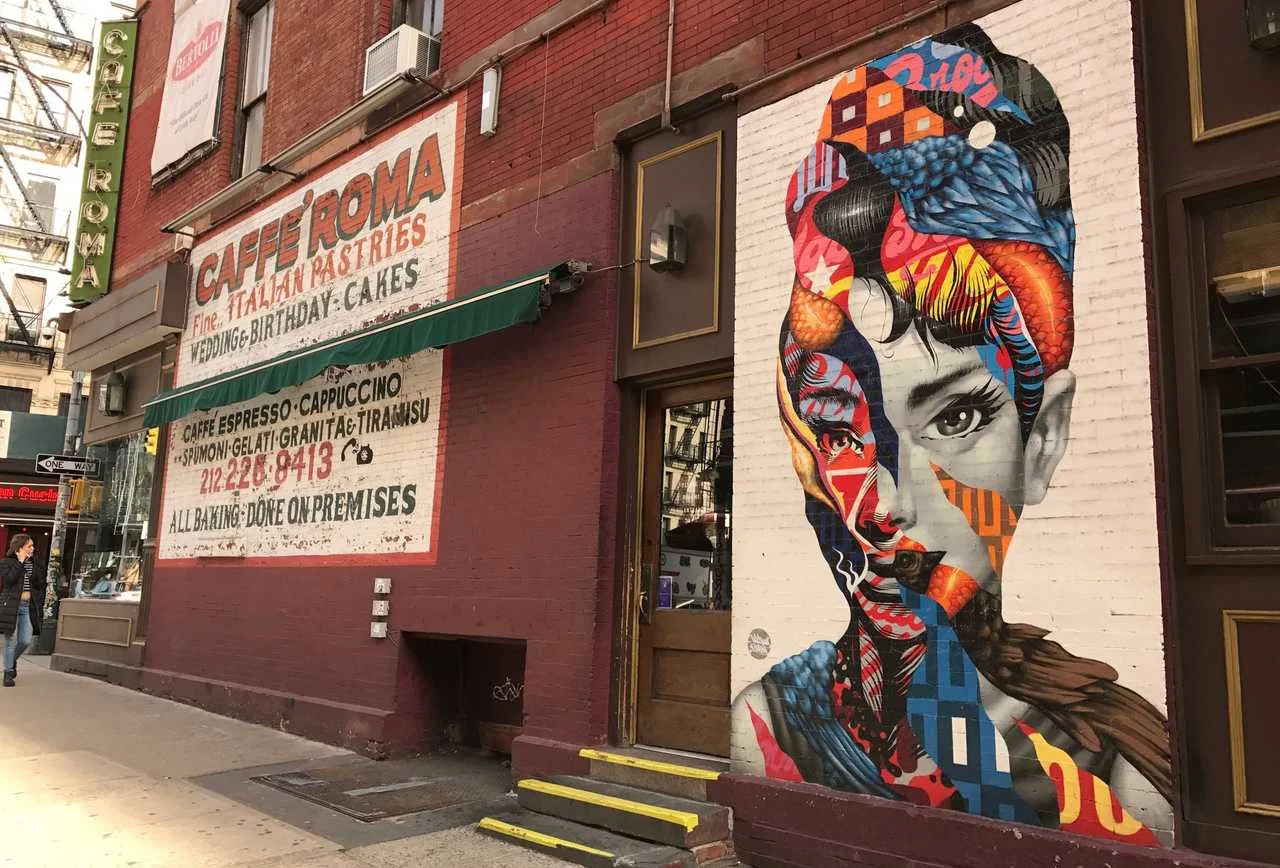 "I've had people telling me that it's the best cannoli they've ever had," says Denise Orfanos, a manager at Caffe Roma whose family has run the business, which dates back to 1891, since the 1950s. "Everything is hand-rolled, everything's handmade, everything is filled fresh. Those are really the number-one attraction."
Sample new riffs on nostalgic nosh
Now that you've taken a trip down (somebody's) memory lane like Don Corleone intended, it's worth checking out the new kids on the block, too. This is, perhaps, the only part of town where hand-wringing about apparent interlopers would be misplaced. Recent additions aren't just in the neighborhood, but of it, too.
Rossana Russo took over ownership of Lunella a restaurant with beaming yellow walls that's planted between Broome and Grand from her parents two years ago.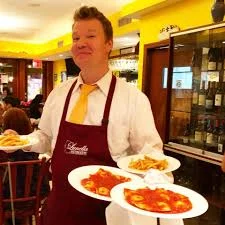 Russo's folks emigrated from Italy separately in the '60s, met in Little Italy, and opened a few restaurants over the years before establishing Lunella in 2001. Now that she's in charge, Russo says she tries to distinguish her business by featuring live music on weekends and hosting gay pride events.
Aunt Jake's opened further south on Mulberry, between Grand and Hester, and down a few steps, in 2018. The modern venture represents "Italian food for the next generation," as owner Nick Boccio puts it.
The interior design is very clean, swoon-worthy songs by Sam Cooke and Ella Fitzgerald play over the speakers, and fresh pasta is made by hand every day.
Bring a bite of Little Italy back home
Once you've slaked your hunger, you can shop responsibly. You're going to want to recreate some of Little Italy's goodies at home -- even if all you're capable of is putting together a charcuterie board.
One of the seasoned establishments Dr. Scelsa speaks of is Alleva Dairy, the self-proclaimed oldest cheese shop in America that opened in 1892 next door to its current location at the corner of Grand and Mulberry.
Geralyn Aquilino, who works the register at Alleva, insists that the mozzarella is a must-try, and the rice balls lined up in the display case are worth your attention, too. She should know; in addition to working at Alleva, Aquilino says she was raised nearby and has lived in the neighborhood for the past 32 years.
Over on the other end of the block, off of the main thoroughfare of Mulberry and at the intersection of Grand and Mott streets, is another longtime fixture of the community: Di Palo's Fine Foods, an Italian grocery established in 1925.
The staff at Di Palo's moves at a glacial pace -- be sure to take a number near the entrance, and keep an ear out for when they finally call you up -- but they do foster a warm atmosphere.
A couple of attractions missing from Mulberry Street are even set to reopen at some point. Angelo's restaurant, an old-school favorite mentioned by nearly everyone interviewed for this article, had to close following a 2018 fire, but it's scheduled to return once renovations are complete later this year.