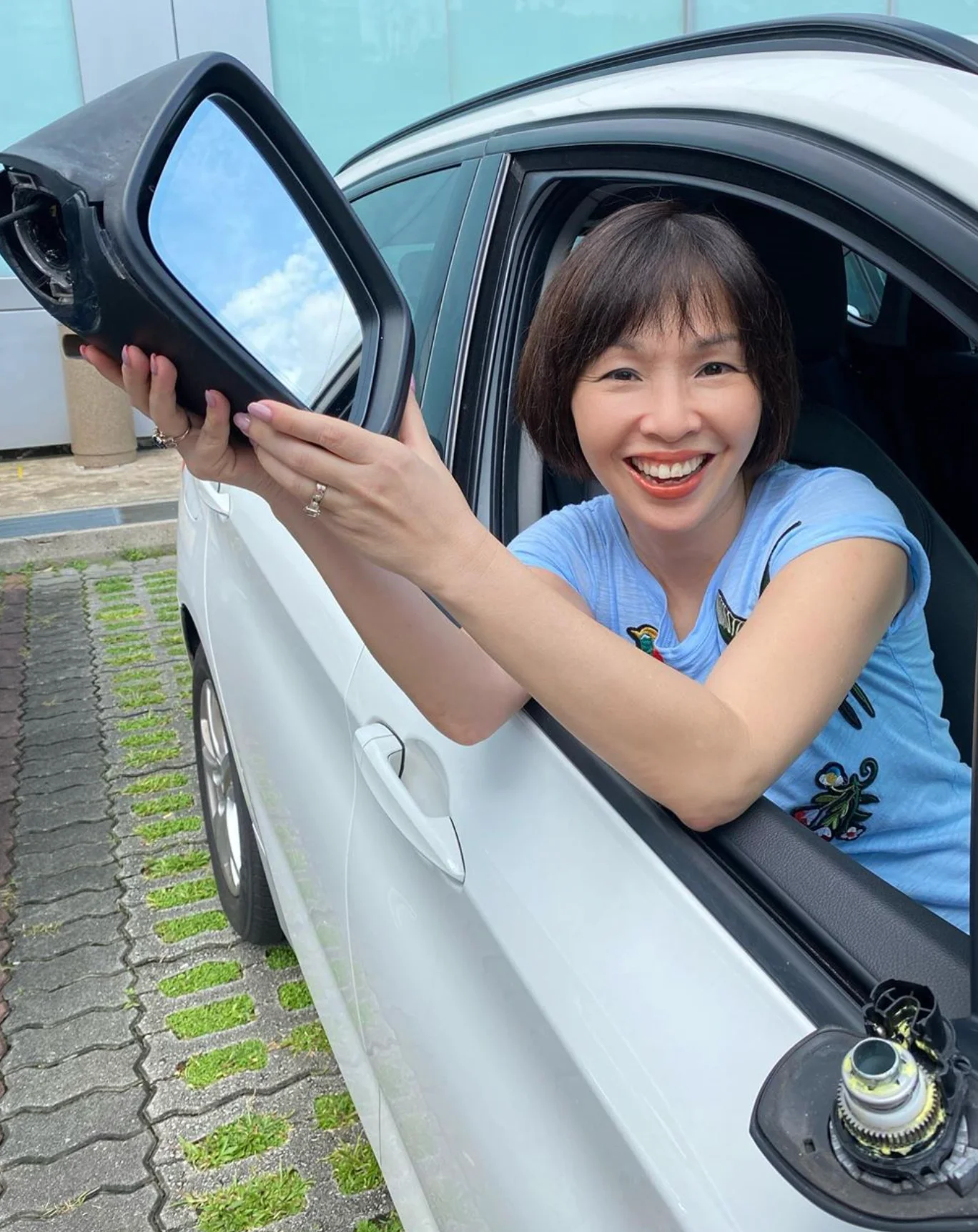 Kiss92 DJ Maddy Barber initially got mad when someone knocked a mirror off her car.
Then she found a note...

Truck driver Wang Yaowen had hit the side mirror of the car while it was parked in Tiong Bahru. He apologised in the note and left his contact details. Ms Barber called him.
"There was so much sincerity, goodness and honesty in his voice. Mr Wang took full responsibility for the accident and gave no excuses. I heard that he was new to Singapore, and I decided to let it go."
MS BARBER, OF HER PHONE CALL WITH MR WANG.
#tradeup challenge accepted
Ms Barber, who co-hosts Maddy & Divian In The Morning, then announced a trade-up challenge with her Kiss92 team.

They welcomed submissions from listeners for items that they would swop for her broken mirror. Each trade should get Ms Barber an item of a higher value.
SWEET OFFERs
Offers streamed in from listeners for that first trade. One was for a big bottle of Nutella. Yum.

Other offers included a grocery voucher, a used umbrella, and a hug and a kiss (er, safe distancing, please).
SWEETER THAN NUTELLA
In the end, she traded her mirror for a new handmade teak wood desk set worth over $450. It was from Mr Mei Jie Xiang, the owner of a logistics firm.
What did Ms Barber then #tradeup the teak table for?

#trademeproject
Meanwhile, there are many such challenges going on. One woman is trading her way from a hairpin to, hopefully, a house. There were over 200 million views in TikTok for the hashtag #trademeproject.
What will Mr Wang get?

The Kiss92 challenge is continuing for the next few weeks. The item from the final trade will be given to Mr Wang. Sometimes, honesty pays.
SOURCE: ST REPORT BY CHERYL TEH; VIDEOS AND PHOTO BY INSTAGRAM/MADDYBARBER, FACEBOOK/KISS92 AND TIKTOK/TRADEMEPROJECT

PRODUCED BY: DENISE CHONG